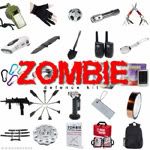 Endline:
May 01, 2010
Info, prizes & rules:
here
Price:
Free
Status:
Contest finished on 01-05-2010.
Search for this artist in Junodownload
(You need to use
Ableton Live
to load the project file)
New remix contest by Tom Cosm, and this is the freakiest competition I've ever saw. Remix his track "Bubble Butt" and win a Zombie Defense Kit (WTF!). Sexy… Have fun!
Here the details:
It's time for another remix competition, and this time it's open to the public. I have finished my latest tune, Bubble Butt, and thought it would be great to see what other people can do with it.

I have been thinking hard about what to offer as a prize, specifically about what do people really need to have, but never actually get? A post apocalyptic zombie defense kit!

As well as a bag to keep everything in, you'll also recieve the Zombie Survival Guide.

The Zombie Survival Guide is your key to survival against the hordes of undead who may be stalking you right now. Fully illustrated and exhaustively comprehensive, this book covers everything you need to know, including how to understand zombie physiology and behavior, the most effective defense tactics and weaponry, ways to outfit your home for a long siege, and how to survive and adapt in any territory or terrain.

So there you have it, never have to worry about what to do in a zombie infested apocalyptic situation again. Don't say I don't care about you.

2nd place winner gets a 6 month pro membership, and 3rd place gets a 1 month membership.

Winners will be decided by myself and some of the boys from Delicious Music. There are no rules for this competition. Any genre, any style, and feeling.

Entires must be sent to me NO LATER than the 1st of May. Winner will be announced on the 2nd of May.
Contest link: http://www.cosm.co.nz/index.php/News/remix-competition-bubble-butt-win-a-zombie-defense-kit.html