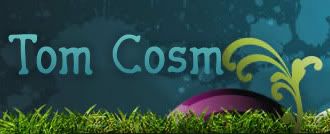 Endline:
January 19, 2010
Info, prizes & rules:
here
Price:
Charged
Status:
Contest finished on 19-01-2010.
Search for this artist in Junodownload
(You need to register a pro account)
New remix contest by Tom Cosm. Win a lifetime membership remixing his track "Batman Smells". Good luck!
Here the details:
I have put up the Ableton Live Project file of my latest tune, Batman Smells, for Pro Members to download, look around and hopefully remix!

The tune goes all over the place, with various genres, so there is bound to be a part that you can do something with.

I am going to set a date of January the 19th for the cutoff and the winner will get their account bumped up to a LIFETIME membership…. that's access to everything until you die. Choice!

I don't really think there should be any rules, I can't think of any… so just go nuts. Any genre, any style, surprise me!

Myself and a couple of the Delicious Music boys will judge it late January.
Contest link: http://www.cosm.co.nz/index.php/News/remix-competition-batman-smells.html