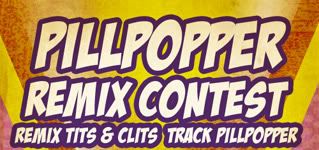 Endline:
December 25, 2009
Info, prizes & rules:
here
Price:
free
Status:
Contest finished on 25-12-2009.
Search for this artist in Junodownload
New remix contest by Bopper Nation. Remix the track "Pillpopper" by Tits & Clits and win a release on Gigabeat Records.
Here the details:
Winner gets a release on Gigabeat Records!

Runner ups get a post on Bopper Nation & T-shirt!
The original song, Pillpopper by Tits & Clits, is available for stream here on the site. Tits & Clits is a duo that all should be familiar with, especially as a subscriber to Bopper Nation. This song Pillpopper may be a step back from the heavier fidget that Tits & Clits initially came to be known for, but among many other great hits it is a representation of their maturity and versatility as performers.

Not to mention this song has so much great remix potential, I can't wait to hear the winners! If there are any Tits & Clits submissions that were missed in the past, browser our site, hypem and their myspace! GOOD LUCK!
Listen the original mix: