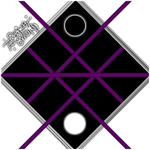 Endline:
April 15, 2010
Info, prizes & rules:
here
Price:
Free
Status:
Contest finished on 15-04-2010.
Search for this group in Junodownload
This is the third remix contest by The Sharpest Sword, they are giving the chance to play around with the vocal sample of "The Cunning Use of Flags" and get some prizes. Good luck!
Here the details:
We encourage anyone who is up to the challenge of Remixing this track to participate in our Remix Contest. The winning Remix will be personally selected by the band, and the creator will receive high quality mp3 downloads of our debut album, Devolve To Evolve, as well as a copy of Devolve To Evolve on CD  after its 2010 Release Date. The winner will also receive a TSS T-Shirt.

Contest Rules:

1)  You must give credit to The Sharpest Sword for being the original creators of any of the content that you use from our downloads for your Remix.

2) Remixes must be emailed to The Sharpest Sword at info@thesharpestsword.com or uploaded to our Sound Cloud Drop Box no later than April. 15, 2010.

3) More than one submission per Re-Mixer will be accepted, because we would like to hear as much creativity as is possible.

Happy Remixing!

*The Sharpest Sword*
Thanks to Stephanie Puchala for the hit!