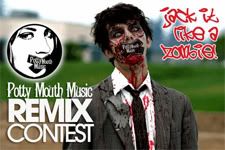 Endline:
January 14, 2010
Info, prizes & rules:
here
Price:
Free
Status:
Contest finished on 14-01-2010.
Search for this artist in Junodownload
New remix contest by Potty Mouth Music. Remix the track "Jack It Like A Zombie" by The Bulgarian to win the contest!
Here is an extract of the details:
After months of waiting way too long to do this, we are now accepting applications to participate in our first official potty mouth remix contest — "Jack It Like A Zombie" by the Bulgarian. The winner of the contest will have his/her track released with the official 'Jack It Like A Zombie REMIXED Ep' dropping digitally online in spring of 2010.
The Remixed Ep features mixes by Nom De Strip, Jason Hodges, Juan Dela Madre, Adam Bozzetto, Angel Alanis, Wally Callerio, The Bulgarian plus ONE LUCKY WINNER!
Listen the original mix:

Remember subscribing to get updates via RSS Channel, Mail subscription or follow FindRemix on Twitter!