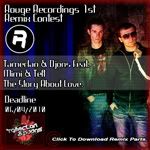 Endline:
April 06, 2010
Info, prizes & rules:
here
Price:
Free
Status:
Contest finished on 06-04-2010.
Search for this artists in Junodownload
Rouge Recordings runs their first remix contest to discover new talented producers and giving them the chance to release on the main digital stores. The track to be remixed is "The Story About Love" from the duo Tamerlan & Djons. Good luck!
Here the details:
1st ROUGE RECORDINGS REMIX CONTEST 2010
Tamerlan & Djons has decided to launch through Rouge Recordings a remix competition with the song "The Story About Love".

The goal of the competition is to release the winner remix into the digital E.P. on the most important digital stores.

If you are a producer we encourage you to download the remix pack on the myspace page of "Rouge Recordings", and edit as much as you like to create new version of the song on your very own genre.

Deadline to send the remixes:  06/04/10

[...]

Prize
5 remixes of the winner to other artists will be signed by Rouge Recordings and digitally released on all the major online stores.
The E.P. will be promoted online worldwide.
The chance of releasing original songs with Rouge Recordings.
Free digital copy of the E.P.
Listen the original mix:

Contest link: http://www.myspace.com/rougerecordings