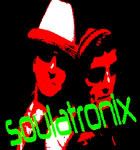 Endline:
March 31, 2010
Info, prizes & rules:
here
Price:
Free
Status:
Contest finished on 31-03-2010.
Search for this artist in Junodownload
(You have to write an email to get the parts)
The New York producers Soulatronix are running a remix requeriment to their latest house hit "Slam That Door feat. Nadia B". Not exacly a remix contest, but is a good opportunity to work in a nice vocal track. Enter now!
You simply check out the original mix and write an email to soulatronix [at] gmail.com to join in!
Listen the original mix: