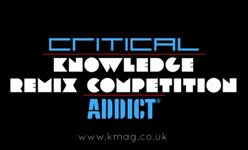 Endline:
May 02, 2010
Info, prizes & rules:
here
Price:
Free
Status:
Contest finished on 02-05-2010.
Search for this artist in Junodownload
New remix contest by Kmag, Sabre and Critical Music. The track to be remixed is "One Hundred Teeth" from Sabre's latest album. You could win a Pro Soundcloud's account and £1000 of Addict clothing. Good luck!
Here the details:
Kmag, Sabre and Critical Music are running a competition for producers to remix Sabre's One Hundred Teeth. Not only do you get to download the original tune for free but also all the stems needed for remixing.

Sabre recently spoke to Knowledge about the track he made for the competition and his new album, so we asked him for a brief to point you in the right direction and how he approaches remixes.

What are you looking for in entries to the competition?
I'm looking for something that is percussively adventurous, something that embodies the theme of hypnotism and treats the vocal as a chorus / verse musical element rather than a sample. Something provocative that takes you to a different place. Try and break out the mould, be as free with it as you like and don't necessarily consider trying to make it into something to destroy dancefloors.

[...]

Please note that as Soundcloud are an official partner in this competition we can only supply the stems through them and they're only available separately, not as one file.

Thanks to Thorne, who also won our last remix competition, for the designs.
Listen the original mix: