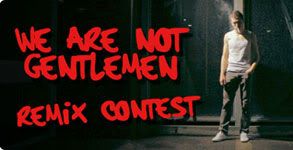 Endline:
June 25, 2010
Info, prizes & rules:
here
Price:
Free/Register needed
Status:
Contest finished on 25-06-2010.
Search for this artist in Junodownload
(You need to register to enter)
Boltongroove Records has started a new remix contest! Remix the track We Are Not Gentlemen by Adriano Alberti to take place on the EP and sign a contract.
Here the details:
Remix competition : "Adriano Alberti – We Are Not Gentlemen"

The duration of your remix must be between 5.30 and 7.30 minutes
Warning : it is forbidden to use samples or fragment from an existing work susceptible to be managed by a copyright.

The winners will take place on the EP and sign a contract with " Boltongroove Records – Switzerland "
The winning versions will be thus available for sale on platform such as: beatport, Junodownload, djdownload, itunes, beatsdigital, dance-tunes.com, trackitdown etc. etc.

How to send us your remix?
The file has to be on format MP3 192 Kb/.
Begin by downloading your remix on a site like http://www.sendspace.com (or the other equivalents)
Then, make reach us the link sendspace (or other equivalent) by e-mail at the following address: contest@boltongroove.com

Attention, the name of your file necessarily has to contain your email address.

To participate in the competition, you necessarily have to send us an e-mail to contest@boltongroove.com before June 18th, 2010 11:59 pm This e-mail must be so drafted:

Title of the E-mail: Remix Contest WANG
Body of the E-mail:
* Artist's name
* E-mail address:
* Link sendspace (or the other equivalents) to download your remix:
* I certify to have used no sample from a work susceptible to be managed by a some copyright.

The results will be published on June 25th, 2010 here even

Good luke to everybody
Listen the original mix:

Contest link: http://www.boltongroove.com/contest.html