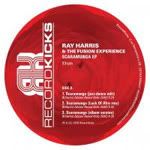 Endline:
April 30, 2010
May 31, 2010
Info, prizes & rules:
here
Price:
Free
Status:
Contest finished on 31-05-2010.
Search for this artist in Junodownload
Record Kicks, Juno and Soundcloud are runing and new remix contest to let you play with some fresh stems. The original mix is "Scaramunga" by Ray Harris & The Fusion Experience. You can win some great prizes, check out the full post for details.
Here some details:
RAY HARRIS & THE FUSION EXPERIENCE are out now with an EP (available on 12?/Digital Download), and scheduled to release their self-titled full-length in all the best stores worldwide on April 12th, though you can already buy it exclusively on the RK website.

To celebrate Record Kicks has partnered with Juno and Souncloud to give you the chance to show off your production skills with a remix competition of single "Scaramunga". So DJs and producers out there pay close attention as the winner will get their work released on Record Kicks, score a bunch of RK 45s, a £50 voucher from Juno and a free premium account on Soundcloud!!!
Listen the original mix:
Contest link: http://www.recordkicks.com/index.php?/news/RAY-HARRIS-THE-FUSION-EXPERIENCE-competition
Update: Record Kicks has dedided to extend the deadline until May 31st!