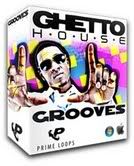 A new breed of House is emerging from London's music scene. Mixing Dubstep, Electro, Garage, Grime, Urban and UK Funky with spatters of Broken House, Caribbean music styles, Ragga, Soca, Dancehall. Prime Loops have released this new sample pack Authored by Prime Loops resident engineer Scott Harvey who has lots of experience in the Urban House Scene under his belt, releasing on major labels such as Warner, EMI, and Ministry of Sound.
We asked Scott about the production process of this sample pack:
"An organic feel was in order here with the drums, so I recorded a fair amount of live percussion/drum loops and hits for this pack, played by a good friend of mine who is an African musician and amazing percussionist, and then mixed them up with more electronic sounds. The loops and hits have been processed and recorded in 24-bit, and I have added distortion to some sounds to give a dirtier feel in keeping with the genre. I have a range of analogue hardware, such as the Roland JV2080, Nord Lead, MoPho, Access Virus, Korg Prophecy and a selection of high-end soft-synths such as Rob Papen's Predator & Albino, and ReFX Vanguard, most of which were mixed in too for the techy synth sounds and basses. The entire pack was processed using Apogee Converters, and a TL Audio Ivory valve compressor."
After month's of hard work, everything has been boiled down into 200+ Ghetto-fabulous Loops, and also arranged into 15 streamlined construction kits for ease of use. In addition, you also get 180+ super-styled Drum Hits, plus a well-deserved splash of bullet point FX — all suited to the genre. So you can program, remix, match and create as you please.
Preview the sample pack:
More info here: http://www.primeloops.com/loops-samples/product/ghetto-house-grooves~135/