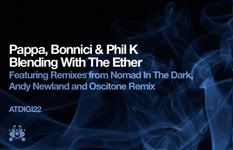 Endline:
February 28, 2010
Info, prizes & rules:
here
Price:
Free/Register needed
Status:
Contest finished on 28-02-2010.
Search for this artist in Junodownload
(You need to register a forum account)
The top level label Audio Therapy has started a remix contest, bringing us the possibility to remix his new release "Blending With The Ether" by Anthony Pappa, Bonnici & Phil K! What are you waiting for? Don't hesitate and join in!
Here the details:
Remix Competition Info

Join the Audio Therapy Facebook fan page to take part in an exclusive competition to remix "Blending With The Ether" by Pappa, Bonicci and Phil K. The lucky winner will see their winning remix released exclusively on Beatport.

To take part simply become a fan of Audio Therapy (http://www.facebook.com/audiotherapyrecords) before January 31st and we'll make sure all fan page members receive a link to download the remix parts. We will accept submissions up until 28th February. Any submissions that come from people that are not listed as fans will be disqualified. Soz.

Thanks and good luck.
Listen the original mix:
Not yet…sorry
Contest link: http://www.facebook.com/note.php?note_id=289123060070