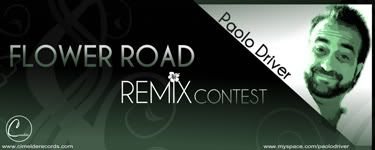 Endline:
January 10, 2010
Info, prizes & rules:
here
Price:
Free/Register needed
Status:
Winner announced!
Search for this artist in Junodownload
(It needs an email sing up)
Cimelde Records is running a remix contest, giving the chance to win a digital release and more prizes. The track is "Flower Road" by the Italian Paolo Driver. Good luck!
Here is an extract of the contest's details:
Cimelde Records !>

Would like to introduce you the first Cimelde remix contest.

We invite every musician and producer to join this contest and remix the original track "Flower Road" by Paolo Driver.
The Flower Road EP will be released next year (2010) February along with another remix by the well know German artist,

Ben Anders + the 1st place remix winner of this contest.

Prize of remix: The winner remix will be included on Paolo Driver's EP and will be released digital on the most stores like

Beatport, Whatpeopleplay, Trackitdown, Juno, iTunes, Amazon and many more + future remix chedule or/and releases on

Cimelde.
Listen the original mix:

Thanks to Arpi for the info!
Update: Winner announced!