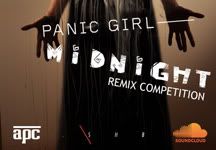 Endline:
April 28, 2010
Info, prizes & rules:
here
Price:
Free
Status:
Contest finished on 28-04-2010.
Search for this artist in Junodownload
New remix contest by Shadybrain and AudioPorn Central. They're giving the chance to get released on the digital version of the Panic Girl Burn And Rise – The Remixes EP. The track you have to remix is "Midnight" by Panic Girl. Good luck!
Here the details:
Shadybrain and AudioPorn Central

proudly present

Panic Girl – Midnigh REMIX COMPETITION

as you know it already, our own electro fairy has her first EP out
and to do this important thing in real APC style
we teamed up with our good friends at Shadybrain and SoundCloud
to make a cool contest to show the world how creative YOU are

yupp, the contest is about YOU and your remix skillz

[...]

good luck and happy mixing!
Listen the original mix: