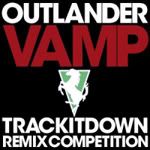 Endline:
December 07, 2009
Info, prizes & rules:
here
Price:
Charged
Status:
Contest finished on 07-12-2009.
Search for this artist in Junodownload
(You need to buy the stems)
New remix contest by Trackitdown and Oldskoolmp3. Remix the classic "Vamp" by Outlander and win a R&S Records release and £100 worth of sample packs. Get ready!
Here the details:
Techno and old skool lovers will know just how amazing an opportunity remixing this 1991 rave classic is. As one of the most important milestones in dance music evolution, these seminal hardcore pianos have been reverberating around raves for nearly 20 years and now it's your chance to turn in a remix that will propel 'Vamp' into the future for generations to come.

Belgium based R&S Records sat at the heart of electronic music in the last decade of the 20th Century and was home to the most important producers ever to make us dance. Heroes such as; Aphex Twin, Joey Beltram, CJ Bolland, Dave Angel, Human Resource, Model 500, Jaydee and Golden Girls wrote a non stop wave of anthems that are still revered by the biggest names on the scene today.
Trackitdown.net and its sister old skool and classics download store Oldskoolmp3.com have joined forces with R&S Records to present producers from across the spectrum of dance music a golden chance to reach across dancefloor history and bring Outlander 'Vamp' up to date with a bang and a bleep! Last year cosmic techno production superstar Prins Thomas took the track deep on the R&S remix compilation so the benchmark has been set…

For the first time in the history of many top flight Trackitdown.net remix competitions, a shortlist of entries across all styles will be published for members to vote for their overall winner in a remiX-Factor style public celebration of the best new talent and their skills.
Download the original and parts from Trackitdown.net and Oldskoolmp3.com and deliver your remix entry to vamp@trackitdown.net no later than Monday 7th December to play a part in this historical contest.

The shortlist of best entries will then be published and members of Trackitdown.net will use the unique ratings and comments feature to tell us exactly who they think deserves to win not only a release on the legendary R&S label but well over £100 worth of sample packs and collectors edition products from both hosts.
Listen the original mix: