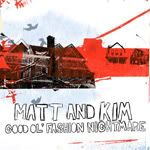 Endline:
December 04, 2009
Info, prizes & rules:
here
Price:
free/register needed
Status:
Contest finished on 04-12-2009.
Search for this artist in Junodownload
(You need to be a SoundCloud memeber to submit the track)
New remix contest by Discobelle.net and Nettwerk Records. Remix the track " Good Ol' Fashion Nightmare" by Matt & Kim and win a release on Nettwek Records.
Here the details:
We got an exciting new remix competition for all you producers out there. This time it's the track Good Ol' Fashion Nightmare by Matt & Kim that we want you to put your individual twist to.

Dl the remix tracks and start working on your remix. Then drop them in the Good Ol' Fashion Nightmare Remix Contest group on Soundcloud. You got until the 4th of December to enter.

The winner will be picked by Matt and Kim and the winning remix will be released on Nettwerk Records in the original "Good Ol' Fashion Nightmare" – Single-Bundle and physical release provided there will be one.
Listen the original mix: