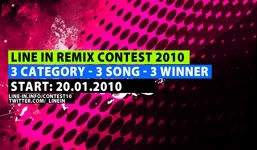 Endline:
February 20, 2010
March 03, 2010
Info, prizes & rules:
here
Price:
free/register needed
Status:
Contest finished on 15-10-2009.
Search for this artist in Junodownload
(You need to register an account)
Line In is running a remix comp with three different tracks:  Creative Source — "I'd Find You Anywhere", Imogen Heap — "Hallelujah" and Kate Nash — "Mouthwash". The contest is mainly Drum&Bass, Dubstep proposed. Join now!
UPDATE: The contest was extended to March 03, 2010!
Here is an extract of  the details:
RULES:

- EVERY PARTICIPANT can apply with up to three remix / 3 category in the competition.

- ONLY your own work can be submitted (no mixes, mashups allowed)

DEADLINE (1st Round): 20th of February, 2010

TECHNICAL INFORMATIONS, step by step:

- DOWNLOAD THIS REMIX KIT, WHICH CONTAINS THE THREE MATERIAL IN WAV FORMAT.

(All rights reserved to the related artists and labels. You may not able to copy, distribute and transmit the files.)

- MAKE A REMIX…

- UPLOAD YOUR WORK TO SOUNDCLOUD WITH THE "LINEINREMIX10? TAG AND WITH YOUR NAME IN THE TITLE.

- Preferred format: "Artist — Title (*yourname* Remix) LINEINCONTEST10?

- File Format: 320kbit MP3 CBR (for the upload)  / 44KHz WAV (for a future release)

- WAIT & Follow Us on Twitter

CATEGORIES:

- Creative Source — I'd Find You Anywhere

- Imogen Heap — Hallelujah

- Kate Nash — Mouthwash

Proposed styles: Drum&Bass, Dubstep and their subspecies. Effect, Cut, Slice the materials as you like. The expected length for the complete tracks is 2 minutes.
Promo video:

Contest link: http://line-in.info/contest10