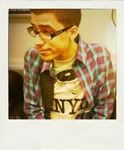 Endline:
January 18, 2010
Info, prizes & rules:
here
Price:
Free
Status:
Contest finished on 18-01-2010.
Search for this artist in Junodownload
Remix the disco-house track "Your Love" by Le Babar & Silver Disco and win a digital release. Good luck!
Here some details:
Hello Disco Lovers.

Le Babar and I are happy to announce our first remix contest for our new upcoming track "Your Love". If you have not already heard the track I think now is the time to fire up our myspace player and give it a hear.

Be put to a creative test with the given sample pack. 1 (….pending 2) winner(s) with the best remix will be included in our upcoming EP which will be released worldwide on over 100+ digital stores including amazon, itunes, beatport, ect.
Rules:
- One person per entry thank you very much.
- Please don't include any other samples (if you must let us know the sample so we can get it cleared if you do become our winner)
- Get creative, go mad, and have a good time. It does not strictly have to be disco house but anything else ranging in the electro category.

Deadline:
The deadline to submit your remix will be Jan 18th, 2010. I hope this gives you enough time to create something wonderful. Please if you run out of time submit what you already have. We might enjoy it and you might be chosen as the winner; In which we will give you more time to complete the remix.
Listen the original mix: