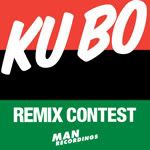 Endline:
December 01, 2009
Info, prizes & rules:
here
Price:
free
Status:
Contest finished on 01-12-2009.
Search for this artist in Junodownload
Man Recordings organize its 3rd  remix contest, this time you have the chance to remix "Tsu Bo feat Anbuley" by KU BO, the new project by Vienna bass-meister Stereotyp.
Here the details:
Man Recordings and Fairtilizer bring you the 3rd Man Recordings remix contest. This edition
features Ku Bo , the new project by Vienna bass-meister Stereotyp.

"Tsu Bo" features Ghanian-Austrian singer Anbuley on the microphone and presents the sexy and dubbed out tropical-tec for which Ku Bo has become famous for. "Tsu Bo" feat. Anbuley was recently featured on the "I Love Techno" Mix-CD by Crookers and is considered one of the hottest Afro tunes of the moment.  Early December we´ll release the Ku Bo Remix EP (Man 043) featuring remixes by DJ Manaia, Batida, Bert On Beats, Lazy Ants, Flore, Robot Koch and Daniel Haaksman. Until the remix EP will be released, you have the chance to remix the original version of "Tsu Bo".
Listen the original mix:
Remember to subscribe to get updates via RSS Channel, Mail subscription or follow FindRemix on Twitter!