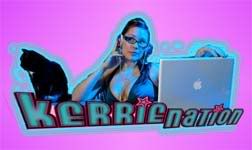 Endline:
March 05, 2010
Info, prizes & rules:
here
Price:
Free
Status:
Contest finished on 05-03-2010.
Search for this artist in Junodownload
(That's only a linked image, just follow the instructions on this post)
Champion Beats is running a remix competition to win a digital release on Beatport. You have to remix the track "Shake Pop & Lock" by Kerrie Nation, the Canadian DJ & producer. Join now!
Here the details:
((((CHAMPION BEATS))))))
NEW KERRIE NATION REMIX CONTEST,
win a chance for you remix to be released on BEATPORT-any genre accepted

Download remix pack here- http://www.mediafire.com/?rqi4jnlh3jz

Send all remixes to: anthony@championbeats.com

ONLY ONE REMIX WILL WIN!!!

To hear the original version of Shake Pop & Lock, go to http://www.myspace.com/kerrienation

DUE DATE: MARCH 5th

BPM:128

CONTEST ARTWORK FLYER:
http://i283.photobucket.com/albums/kk312/championb
eats/KERRIE-NATION-remix-contest.jpg
Listen the original mix:
Enter Kerrie's Myspace page and play "Shake Pop & Lock"