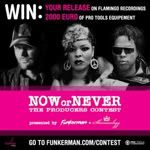 Endline:
April 25, 2010
Info, prizes & rules:
here
Price:
Free/Register needed
Status:
Contest finished on 25-04-2010.
Search for this artist in Junodownload
(You need to register a forum account)
After the success of his previous remix contest, Funkerman has decided to start a new producers contest in collaboration with Shermanology. You could win a release on Flamingo Recordings and 2000 euro worth of Pro Tools equipment! Enter now!
Here the details:
Contest welcome

Hi everybody,

Funkerman here.

Me and my team were so excited to see so many people producing and talking about music during the Automatic Remix Contest. There is some much talent amongst you, and we want to see more!

I want to start this new year with a massive new contest: Funkerman & Shermanology present the "Now or Never" Producer Contest! With this I'm giving you the chance to release your very own track together with Shermanology on Flamingo Recordings + 2000 euro worth of Pro Tools equipment sponsored by M-Audio PRO TOOLS and Avid

Flamingo Recordings is known for their quality vocal tracks. So we asked Shermanology, responsible for the vocals on '3 Minutes to Explain' and 'Automatic', to provide you with exclusive vocals to help you get started on your track.
Listen the original mix:
Not yet…
Contest link: http://funkerman.com/contest