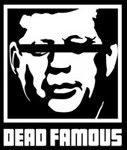 Endline:
May 01, 2010
Info, prizes & rules:
here
Price:
Free
Status:
Contest finished on 01-05-2010.
Search for this artist in Junodownload
After their DHD's "Scene" competition, Dead Famous Records is holding a new remix contest for the track "Replicant" by LuQas. You could get released on the label. As always, good luck!
Here the details:
We at Dead Famous love contests. Last year, we ran both a remix contest for DHD's "Scene" and an original Acid Contest (Won by Dekoy and Prato , respectively). Obviously being addicted to these types of things, and seeing as how psybreaks are gaining more popularity as time goes on, we're holding a remix contest for LuQas's "Replicant".

LuQas made a big splash in the psybreaks scene last year, and unfortunately, no remixes of Replicant ever saw the light of day. This is where you all come in. We're looking for the best remix of Replicant to include on a future Dead Famous release. All styles are welcome, but like always, keeping with the vibe of Dead Famous is key – ie: Drum and bass and head crushing hardcore are cool and all, but your chances aren't as great. If you pay attention to Dead Famous, you know exactly the kind of sound we love. Note that there are no second and third places here – Winner takes the chance to be included on a future package.

If you need to be reminded on what Replicant sounds like, you can check it out on our myspace – http://www.myspace.com/deadfamousrecordings

The contest runs until May 1st. We will be announcing the winners a few days afterwards.
Listen the original mix:
Not yet…sorry
Contest link: http://www.nuskoolbreaks.co.uk/viewtopic.php?f=2&t=133039