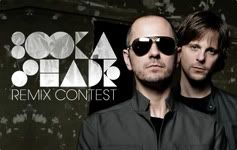 Endline:
May 04, 2010
Info, prizes & rules:
here
Price:
Charged ($3,99)
Status:
Contest finished on 04-05-2010.
Search for this artist in Junodownload
(You need to buy the stems)
Big remix contests these days guys! Beatport has started a new one to remix Booka Shade, getting the opportunity to get released on Booka Shade / Get Physical Music. The original mix is their newest track Regenerate; great vocals, pads and melodies. Get ready to reach the next level on your producer career!
Here the details:
Booka Shade have enjoyed a meteoric rise since establishing themselves with their breakthrough album 'Memento' in 2005. Worldwide club hits such as 'Body Language', 'In White Rooms' and 'Charlotte' followed, as well as their classic electronic album 'Movements'. Five years on and with the release of their fourth LP, 'More!', Booka Shade delve deeper than ever before, delivering what has to be their most dynamic and accomplished album to date.

For Beatport's next remix contest installment, Booka Shade is offering producers their newest track 'Regenerate'. The winning remix will be released on Booka Shade / Get Physical Music, joining a talented roster that includes M.A.N.D.Y., DJ T., Chelonis R. Jones, Samin, Damian Lazarus and more.

The opportunity

Starting April 13th, 2010, Beatport users are able to download the remix parts of Booka Shade's 'Regenerate', and then remix it, before uploading it to Beatportal for the voting round.

The prizes

The winners will be divided into 2 categories; 10 user voted (based on the highest number of spins) and 10 editor's favorites (picked by Beatport's internal music staff). From these 20 nominees, Booka Shade / Get Physical Music will choose their favorite winning remix, to be released on their label. The winner will also receive a $200 Beatport gift card and V-Moda's unreleased Crossfade headphones.

[...]
Prelisten the parts (the original can be found on the 2nd page, called Vinyl mix):

Contest link: http://www.beatportal.com/feed/item/booka-shade-regenerate-remix-contest/