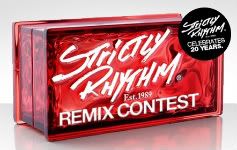 Endline:
January 04, 2009
Info, prizes & rules:
here
Price:
Charged
$3.99 USD.
Status:
Contest finished on 04-01-2010.
Search for this artist in Junodownload
(You need to buy the stems)
Another remix contest by Beatport, this time collaborating with the mythic house label Stricly Rhythm. The track to remix is Armand Van Helden's "Witch Doktor". Good luck!

Here an extract of the details:
from the best of the underground and mainstream producers around the globe. To end 2009, we are proud to partner with Strictly Rhythm to celebrate the labels 20th anniversary and offer aspiring producers the chance to remix Armand Van Helden's House classic 'Witch Doktor'.

The opportunity

On December 15th, 2009, Beatport will make available for download the stems of 'Witch Doktor', Armand Van Heldens 90's house classic.

"Witch Doktor was the track that put Armand on the map back in the 90s", stated Clark Warner Beatport Director of North American labels. "Any producer will enjoy updating this classic tune to a 2010 hit remix."

Armand Van Helden has inspired producers and introduced waves of sounds over his long career. Join us in celebrating his career and the 20th anniversary of Strictly Rhythm.

The prizes

The winners will be divided into 2 categories; 10 user voted (based on number of spins) and 10 editorial winners (picked by the Beatport music staff). Among these 20 winning entries, Strictly Rhythm will then choose their favorite winning 'Witch Doktor' remix to be released on their label as well as receive:

1 – $250 Beatport gift card
1 – Native Instruments' Traktor Duo
1 – Strictly Rhythm merchandise
Listen the parts here: