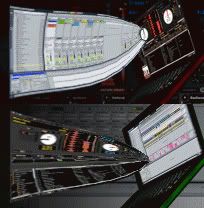 Ableton and Serato have been working together for a year, and this week have presented The Bridge, their first product as partners. A new world is opening for djs and producers!
They have not given all the details, but it's promising.
Basically, The Bridge lets import the dj mixes from Serato to Live, allowing to manipulate the edits (automation data for example) and on the other hand you easilly can integrate Live in Serato, viewing clips from your Live Set on it. Sounds pretty good, right?
In addition, The Bridge will be free for registered users of Serato and Ableton Live 8/Suite 8.
Check out further details:
http://www.ableton.com/thebridge
http://www.serato.com/thebridge